We provide Turnkey evaporative cooling projects, we design Supply and install all types of Fixed evaporative air coolers (Direct, Indirect, and IDEC) evaporative cooling systems.
We have air coolers with  Top discharge, down discharge and side discharge models, suits almost any cooling project. Its ideal solution for cost effect cooling for warehouses, factories and workshops.
XC18DDI heavy duty Evaporative air cooler is suitable for fixed installations in warehouses, industrial and commercial buildings.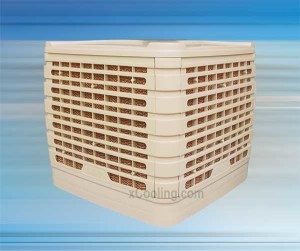 Low cost cooling.
High efficiency.
Energy efficient.
Low carbon emissions.
Perfect for green buildings.
Main specifications:
| | | |
| --- | --- | --- |
| | Airflow | 18000 (m3/h) |
| | Exterior Size | 1100×1100×950 (mm) |
| | Speed | Variable speed |
| | Gross Weight | 80 (kg) |
| | Power Supply | 220/50 (V/Hz) |
| | Power Consumption | 1.1 (kw) |
| | Water Capacity | 40 (ltr) |
| | Water consumption | 10-20 (ltr/hr) |
| | Effective Area | 100-150 (m2) |
| | Controller | LCD Touch Screen |
| | Auto Fan Type | Axial |
| | Noised | ≤67 (dB) |
| | Evaporation Efficiency | 0.85 |