Misting Fans
Misting fans are often employed for outdoor cooling and act as a humidifier. Misting fans principle is quite similar to evaporative coolers regarding optimizing the room temperature. These fans are often found in arid conditions where they serve the purpose well. This comprises electric powered or a battery powered fan in conjunction with water spray pump. Here, the working is quite similar to evaporative coolers, and thus these are often misunderstood as coolers. Nowadays, the use of misting fans in arid regions and comparatively drier areas, have exponentially increased and favored.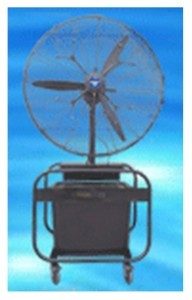 Mist system: High pressure with eight nozzles
Water tank:70L unbreakable plastic tank
Misting time:8 hours continuance
Available area:80 sqm area and 20m available distance
Drop size:< 20μm
Mist system:Centrifugal mode, Adjustable by water valve
Water tank:60L unbreakable plastic tank
Misting time:12 hours continuance
Available area:50 sqm area and 12m available distance
Drop size:< 20μm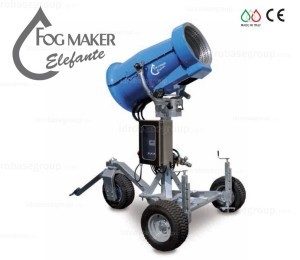 Fog Cannon The giant in the misting sector This fog Cannon is an industrial misting system and Dust Suppression that shoots billions of small droplets into the air up to 60 meters with a rotation ­ of 340°.through misting nozzles, situated on a ring on the exit of a powerful fan.
Industrial fogging system for dust suppression with fog module,short support column, water­ filter and control panel mounted on a metal base.
Fog Maker Technical specifications:
• Pressure: up to 10bar
• No. of nozzles (3 rings with 52 nozzles): 156
• Maximum coverage: approx. 10.700 m
• Air ‑ ow rate: 28.500m3/h
• Power absorption: fan 11kW ring heating 3kW
• Power supply: 400 V-50Hz
• Protection rating: IP65
• Rotation range: 340°
• Elevation: -20° +45°
• Fan diameter: 660mm
• 2800Rpm
• Flow range: approx. 60m
• Noise: < 93Lwa
• ON/OFF switch
• Rotation right/left
• Pulse counter for rotation angle programming
• Fan start
• Start water supply
• Work/pause cycle timer
• Operation light with buzzer
• Nozzles ring heating
• Night light
Originally posted 2016-09-03 05:55:15.