Lets face it , if you have a patio or restaurant outdoor area in Dubai or any Emirate, You will need an evaporative outdoor AC or air outdoor cooler , They are portable, not costly & energy efficient.
Check below some of evaporative air coolers available in many sizes (air flow), Which are available for Rental within Dubai, Abu Dhabi, Sharjah and other Emirates , please contact us for more information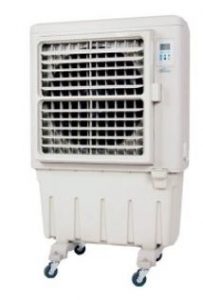 7000 m3/h
70 L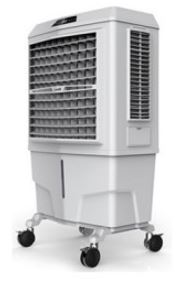 8000 m3/h
100L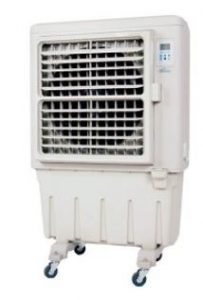 8000 m3/h
70 L
12000 m3/h
60 L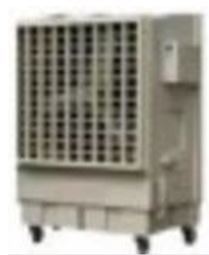 18000 m3/h
126 L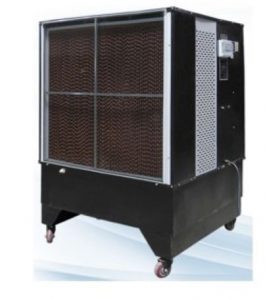 41000 m3/h
200 L
Port a Cool Outdoor Coolers
We offer Portacool air coolers competitive prices in Dubai. Contact us for catalogues & details. Also rent service available within UAE.

These evaporative cooling machines have best performance, its easy to use portable evaporative cooler its can produces cool air where ever it is needed. And you can  enjoy your outdoor space longer, even when it is extremely hot!
You could check for example the Cyclone2000 below, other models in the range available in stock
The portable evaporative outdoor AC cools outdoor space air by drawing warm air across an evaporative filter membrane (Evaporative Pads). The pump, located the bottom water tank filled with water, circulates water through that pad.
This outdoor Air cooler has a fan in front, and this fan will pull the air across the wet media and blows the cold air out. You can run this thing just as a fan, or if you kick on the pump then it's going to start dripping water cross and the evaporation will cool the air.
This is just about perfect you want just enough dripping that there are a few dry streaks in there that that's just about the right amount of water.
Outdoor cooler is intended for outdoor spaces or someone in closed spaces such as this tent we've got plenty of air flow. So how well does it work well the unit like this is going to work best and hot dry conditions such as Al Ain. It will drop the temperature anywhere from 5 to 13 degrees if it's hot, dry day. In Abu Dhabi and Dubai or some other places where it's a little more humid that change in temperature it's going to be much less maybe five degrees. But still, it's good cooling with all this big air flow blowing in front since high air velocity will help people to feel more cooling. So it's always good to have it, and you will feel right exactly it's working great. Can be used for tent cooling or factory cooling. Also the typical usage for those coolers open and outdoor cooling.
So when it's hot, that's the call for evaporative outdoor AC or air cooler !
you can use it on your patio garage large for parties or on a working site.
---
Why evaporative air coolers:
It is efficient than traditional AC.
They use 10 times less energy.
They are not costly.
No installation needed like in conventional AC.
Maintaining swamp coolers is the simplest one.  It just has two things to do.
Clean the water tank regularly.
Replace the moistening pad.
Choosing evaporative outdoor AC:
Evaporative air coolers are available in different sizes whose coverage area ranges from 15 square meters to 2000+ square meters. they can be used as an evaporative outdoor air conditioner or outdoor AC.Some can be used only for indoors, some only for outdoors and others for both indoors and outdoors.If you need coolers for bedrooms or living rooms, Indoor air coolers are good. If you need it for patio, swimming pool, etc.., swamp coolers for Indoor and Outdoor can be used. Outdoor coolers are best for large halls, garages, etc..,
Need rental within UAE, Go check common rates